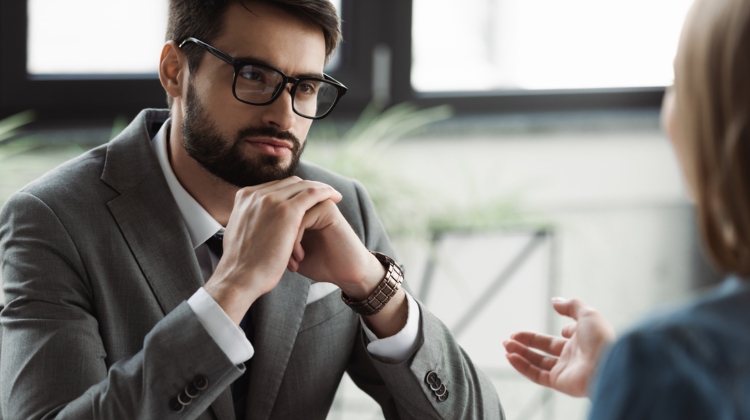 Want to Support a Grieving Employee? Start with Compassionate Listening.
Practice active listening to enhance employee engagement and build a more productive, cohesive team.
Skilled leaders are skilled listeners. Not only does listening help you keep a finger on the pulse of your team, but it also helps you build stronger relationships and foster a workplace culture of trust and loyalty. Compassionate listening is especially critical when an employee experiences an upsetting life disruption that causes grief.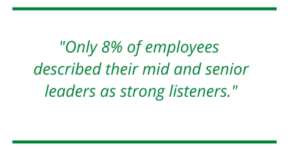 But few employees describe leaders in their organizations as good listeners.
Jacob Morgan, author of The Future Leader: 9 Skills and Mindsets to Succeed in the Next Decade, conducted a LinkedIn survey of 14,000 employees. Only 8% of employees in the survey described their mid and senior leaders as strong listeners.
Why is listening hard?
Compassionate listening is active, not passive. It takes energy to lean in and carefully consider what the other person is saying. The problem is our brains work four times faster than the rate of speech. In other words, we speak at 125-250 words per minute but think at around 900-1,000 words per minute (Carver, Johnson & Friedman).
"We need only about 25% of our mental capacity to hear the message. We have 75% left, so our mind wanders," writes Gene Wheeler, executive coach, consultant and educator, The Institute for Organizational Development.
We might be preoccupied with something a colleague said in the morning meeting, distracted by the phone buzzing, or ruminating about a child struggling at school. Or instead of listening, we're thinking about what we're going to say next, causing us to miss subtle, nonverbal messages exhibited through body language and facial cues.
Unfortunately, if you don't actively listen during check-ins with an employee suffering from a life disruption, they'll think you don't care and may shut down further attempts at engagement. The downstream effects are presenteeism, absenteeism and turnover of valuable employees.
Try these helpful strategies to strengthen your listening skills, as well as retention, productivity and workplace culture.
Listen to learn.
Communication techniques are one of the core tenets of the Human Recovery Platform™, helping to guide leaders through periodic check-ins with life-disrupted employees. These check-ins are crucial to understanding an employee's work capacity.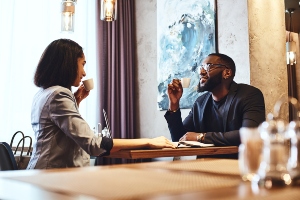 Even if you think you know what your employee is going through, you really don't. Every person deals with life disruptions differently. To create an environment conducive to listening, set aside time to visit with your employee when you aren't working on a deadline, rushing to another meeting, or waiting for an important phone call. Avoid interruptions by setting aside emails and silencing phone calls and texts.
When you give your employee your undivided attention, you demonstrate you care and value them.
Show curiosity.
Ask questions while respecting your employee's privacy. Let them know you would like to hear more about their loved one when they're ready to share.
Often people worry that if we talk about the person the employee is grieving, it will be a painful reminder of their grief. The truth is many grievers cherish the opportunity to share stories about loved ones because it helps keep their memory alive.
No matter what type of life disruption an employee is experiencing, storytelling is an important part of the recovery process, helping them process their emotions.
Practice A.B.L.E. Conversations™.
What does a positive exchange look like when talking with a griever? We coined the acronym A.B.L.E., Ask, Believe, Listen and Encourage, to help guide you as you gather meaningful information to effectively support your employee.
Ask. Ask thoughtful, specific questions, not open-ended ones. For example: What is your capacity for work today? May we provide you and your family with meals for a period of time? If your employee is a

caregiver

ask: What three things could we help with today?
Believe. If an employee tells you they aren't adjusting well during or after a life disruption and/or their stress level is too much for them, believe them and be ready to provide support. When your employee says they can offer a solid 30 minutes or two hours of capacity, believe them.
Pressing someone to engage when their mental capacity is off is costly and leads to decreased performance and an increased risk of on-the-job errors. Do you really want your financial advisor to make investment decisions when their mental capacity is off? If you own a construction company, consider the level of risk your construction workers' daily tasks entail during their life disruptions.
Listen. Grief can be an isolating experience. When an employee feels listened to, it gives them a sense of belonging. In turn, we value those who listen to us. Listen for what your employee needs to survive another day in their disrupted lives. Listen to them share memories of their beloved cat, or a friend who recently died.
Encourage. Getting back to normal is frequently not an option for those who lost a loved one or are caring for an aging family member. Often, they won't directly ask for help and may even struggle with accepting help. However, employers can still encourage employees navigating life disruptions to say "yes" when help is offered.
Upskill your leadership.
Receive the leadership development skills you need to navigate crucial conversations and make a positive difference in the lives of employees who are suffering from life disruptions that cause grief like the death of a loved one, caregiving, divorce, and challenging medical diagnoses/injuries.

Designed for time-crunched executives, associates and care teams, the easy-to-use Human Recovery Platform provides 24/7 guidance to help you easily and thoughtfully re-engage employees suffering from grief-related symptoms that affect productivity like brain fog, presenteeism, absenteeism and a lost sense of purpose.