Got Presenteeism? The Billion Dollar Productivity Problem Many Leaders Miss
Presenteeism, a common side effect of grief, can easily slide under management's radar, costing companies billions in lost productivity (Grief Recovery Institute)—and it could grow worse with a possible recession looming. 
Addressing presenteeism in the workplace isn't hard, but before we share proven strategies to fix it, it's critical to understand the ins and outs of this costly and prevalent workplace problem.
What is presenteeism?
Unlike absenteeism, presenteeism isn't obvious. Presenteeism occurs when an employee is present physically in the workplace, but not present emotionally and unable to perform tasks at normal capacity.
Present but disengaged employees might be distracted by chronic pain, seasonal allergies, depression, or a life disruption like divorce, a health crisis or the death of a loved one. 
Presenteeism creates negative ripple effects across a team, a department and an organization in terms of low productivity, project delays, costly on-the-job errors, and weakening morale.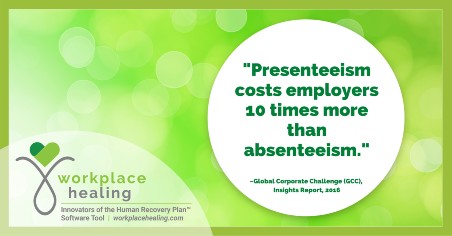 What presenteeism is not. Presenteeism isn't the same as goofing off at work, like playing Candy Crush, mindlessly scrolling social media or surfing the internet. It's also not the same as pretending to be ill to get out of work. 
How presenteeism affects grieving employees.
Presenteeism is especially challenging for grieving employees. Physically, a grieving employee might look okay when they return from their bereavement leave. But grief is a process and can contribute to brain fog and difficulty concentrating, especially during the early months of grief and annual holidays and anniversaries. 
A grieving employee might be in a meeting, for example, but realize halfway through that they didn't hear a thing that was discussed. They might be working on a team project but seem unusually numb, indifferent or disengaged. And it can take them much longer to complete projects and other tasks, which means they spend more time at work trying to get work done or correcting mistakes.
An employee may demonstrate signs of presenteeism in the following ways:
Appears distracted or disengaged 

No longer shows interest or enthusiasm for their work 

Seems unusually tired 

Lacks motivation or energy

Indifferent about results

Takes longer than normal to complete projects and tasks

Makes more mistakes than before

Arrives late or leaves early

Misses lunch breaks or seems to work longer hours

Works even when sick

Doesn't appear to enjoy a healthy work-life balance
Sources: Westfield Health; The HR Director
Presenteeism's effect on employee productivity. Presenteeism cuts individual productivity by one-third or more and costs employers $1,500 billion each year in lost productivity—ten times the cost of absenteeism. That translates into about 57.5 lost workdays each year. 
Healthways, a well-being improvement company, designed a Well-Being Assessment that it tracks with Gallup. Their assessment, which was completed by 20,000 employees at three large companies, found that employees who felt they weren't supported emotionally by their employers were "320 percent more likely to have high presenteeism."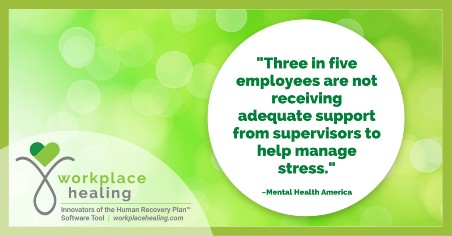 Who is at higher risk for presenteeism in the workplace? 
Grieving employees who are ruminating about the death of their loved one or distracted by legal, financial and other complications surrounding the loss of their loved one.

Employees who worry about their job security, especially during an economic downturn are more likely to experience presenteeism.

Employees who save their sick days to put others' needs ahead of their own (like children or elderly parents).

Grieving employees who have used up their bereavement leave and have no more paid time off.

Employees who don't want to let their managers down, especially if the organization is facing a staffing shortage, which many companies have experienced during the pandemic.

Organizations with low absentee rates that glorify long work hours and

stigmatize taking sick leave

.

Organizations that employ those engaged in helping professions like healthcare and other caretaking professions—individuals who often feel a strong sense of responsibility for the welfare of others. 
Source: Presenteeism during the COVID-19 pandemic, National Library of Medicine, 2020
Strategies to address presenteeism in the workplace.
Resolving presenteeism isn't as hard as you might think.
Be aware.

You can't diagnose a problem if you don't know the symptoms. Pay attention to how a co-worker whose life has been disrupted is doing and understand the behaviors that signal presenteeism in your ranks. 

Empathize.

Understand that a grieving employee goes through a sliding scale of emotions and concerns on any given day as they work to process and make sense of their loss while keeping the rest of their life on track. Supportive colleagues are essential to a grieving employee's re-engagement and retention.

Connect.

We recommend ongoing ABLE conversations with your employee, which can be a powerful strategy to acknowledge an employee's grief and re-engage them back in the workplace. ABLE: Ask, Believe, Listen, Encourage.

Innovate.

Seek solutions and strategies that engage and strengthen your team, enhance the health and well-being of your staff, and support human recovery in the workplace. 
Want more? We provide the easy, flexible support you need to help restore and re-engage grieving employees. Contact us to schedule a free demo of the Human Recovery Platform™.