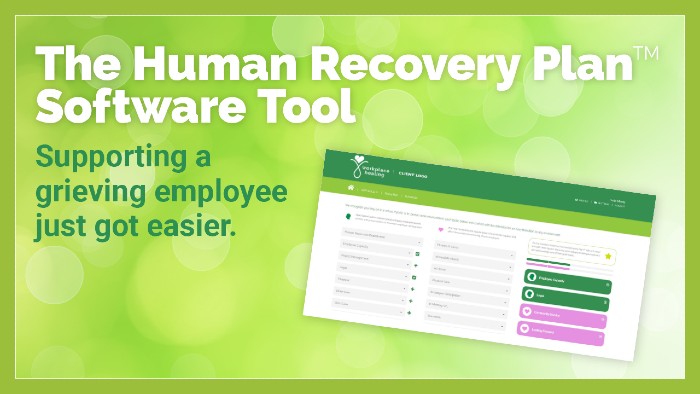 Support for a Grieving Employee Just Got Easier
A Special Announcement from Workplace Healing
Since Workplace Healing's inception, we've provided outreach, research, and education around the importance of addressing grief in the workplace. But to help companies put their good intentions into action, we knew it was essential to offer a flexible, on-demand solution. And that's exactly what we did by creating a guide for employers to support a grieving employee.
 Read on to learn more.
What do I say to a grieving employee? What do I do?
There's nothing more anxiety-provoking than watching an employee or colleague suffer from a grief event and not know how to confidently respond. For too many leaders it can mean they resort to a vague response (i.e. "take as much time as you need") before carrying on with business as usual.
Without any direction on how to best approach the situation, co-workers may distance themselves, inadvertently causing more isolation for an employee in the grips of life disruption.
Unacknowledged or mishandled grief in the workplace not only hurts employee morale but also undermines employee engagement and harms the financial well-being of your organization.
That's why we're thrilled to announce that we've developed a revolutionary new software platform called the Human Recovery Plan™ Software Platform for HR managers, corporate leaders, and care teams. This innovative head and heart-based software solution strengthen the empathetic muscle necessary to support a grieving employee and preserve corporate cultural and fiscal well-being.
As we speak, the Human Recovery Plan™ Software Platform is being onboarded by several companies, and we couldn't be more excited about the feedback we've received so far.
How does grief impact companies?
Since 2018, we've been exploring the latest research and engaging one-on-one with employers. We've listened carefully to what corporate leaders, HR executives, and managers had to say about their worries, fears, frustrations, and uncertainties when it comes to expressing empathy and addressing grief in the workplace. Here are just a few takeaways from these conversations:
Corporate standard operating procedures and bereavement policies don't go far enough when it comes to supporting a grieving employee.
Managers feel overwhelmingly ill-equipped when trying to determine how to best address an employee's life disruption.
Many executives want to help but aren't sure how especially since the grieving process is seen as a uniquely individual experience.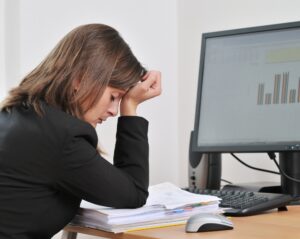 Life disruptions, which include any grief event that impacts a person's ability to be mentally present, especially in the workplace, are inevitable. Grief is a natural reaction to any type of loss.
From our own challenging grief experiences, we know that how a person processes grief might be different for every individual, but that doesn't mean the grief is a strictly personal matter. Rather, an individual's unsupported grief has ripple effects that reverberate across an organization.
The bottom line is personal grief events can have enormous repercussions on a corporation's return on investment. An organization can minimize these negative effects by taking intentional steps to support human recovery in the workplace.
Learn more by watching Workplace Healing's video "Grief's Startling Ripple Effects on Corporate Well-being"
Why empathy at work matters
"To win in the marketplace, you must first win in the workplace."
~ Doug Conant, former CEO, Campbell's Soup
Workplace empathy can have positive outcomes on employee retention, business performance, and corporate culture.
92% of employees state that they are more likely to stay with an empathetic employer.
84% of CEOs believe that a company's financial performance is tied to empathy in the workplace.
Nearly 75% of employees are willing to work longer hours for an empathetic employer.
Source: 2021 State of Workplace Empathy, BusinessSolver
Although more companies are making progress in building empathy in the workplace, 70% of c-suite executives say they find it difficult to demonstrate empathy at work.
We can help.
Introducing the innovative Human Recovery Plan
™
Software Platform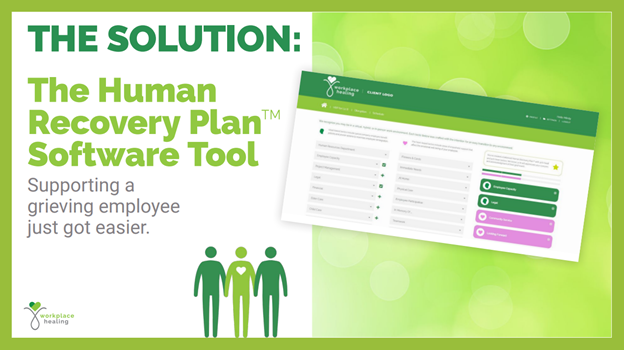 Unlike anything currently available in the marketplace, we developed the Human Recovery Plan™ Software Platform to provide corporate leaders, managers, and care teams with the empathetic muscle to respond to employees affected by life disruptions.
We believe successful companies are built with humans connecting, collaborating, and belonging for the benefit of strengthening corporate culture.
The Human Recovery Plan™ Software Platform is customized to your organization's specific needs. It's fast, easy to use, and relies on the innovative balance of both head and heart-based initiatives to help you:
Re-engage grieving employees.
Restore productivity.
Strengthen corporate culture.
Decrease turnover.
See the Human Recovery Plan in action here.
Special thanks to our growing Workplace Healing community
As our world continues to grapple with the pandemic and its effects on our workforce, addressing grief in the workplace with empathy matters more than ever.
We consider ourselves deeply fortunate to enjoy the support and generosity of a wide network of talented, successful business leaders, who share our vision for supporting human recovery in the workplace.
We are especially thankful for:
Our Advisory Board members, continue to invest their time, energy, and expertise as we roll out the Human Recovery Plan™ Software Tool.
The many HR executives, corporate leaders, and managers shared their experiences around grief in the workplace.
The innovative companies who recognize that head and heart-based initiatives are crucial to success and test piloted the Human Recovery Plan™ Software Platform. Your invaluable feedback and willingness to stretch into new territory for the benefit of your employees and your organization has made the Human Recovery Plan™ Software Platform more robust than ever.
Stay tuned as we continue to share features of the Human Recovery Plan™ Software Platform and offer information and support to leaders focused on creating an empathetic, successful corporate culture where humans connect, collaborate, and belong.
For the latest updates and engagement around supporting human recovery in the workplace, please follow the Workplace Healing page on LinkedIn.