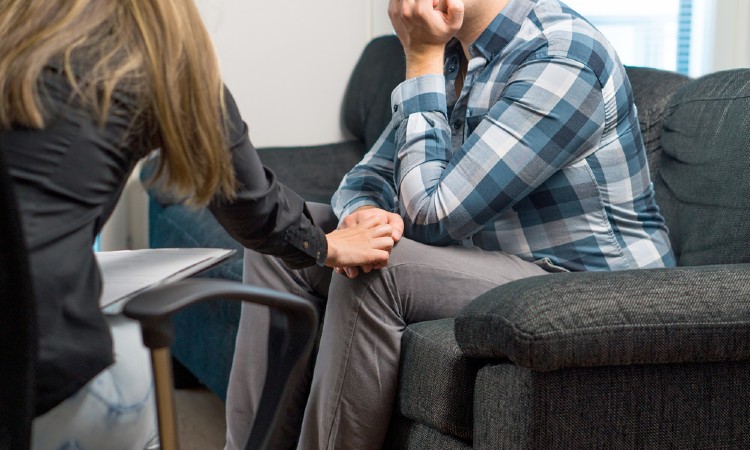 Restore and Re-engage Your Employee
Part III of our series about Post-Traumatic Growth in the Workplace. Some employees may seek to find meaning and purpose following the traumatizing loss of a loved one. Your support is critical to employee re-engagement. This special article series explores post-traumatic growth and how you can best support an employee experiencing it as part of their healing recovery process.
Restoring a sense of self and renewed purpose can take time following a traumatic life disruption as a family grapples to find its center of gravity in the aftermath of loss.
In the wake of his wife Jayme's death, Chris Brassell, the U.S. Director of Purpose and Inclusion at PwC, was approached by Be Head Strong, a Kansas City area non-profit that supports brain tumor patients and their caregivers in partnership with local doctors, hospitals and other organizations. 
"It was a soft introduction. They asked me if it would be okay if they came to the funeral and provided support for anyone who maybe wanted to talk through some things or find out more about brain tumors," Chris says. "They were careful and thoughtful about how they approached me.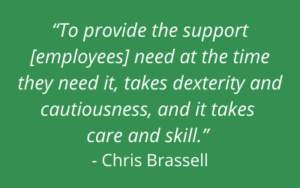 "I think that's an incredibly important piece of the puzzle when it comes to organizations that are trying to approach their people, to provide the support they need at a time when they need it in the most appropriate way, because it takes dexterity and cautiousness, and it takes care and skill." 
Foster employee re-engagement.
With Jayme gone, Chris struggled to envision what his purpose was when so much of it had been tied to the goals and dreams he and Jayme had shared.
"After spending 22 years entangling and entwining and becoming symbiotic in who we are and what our identities were as parents, as individuals, as employees, as whatever defines us as human beings… it disrupted my purpose," the father of three says. "It disrupted our purpose. How could I restore and try to reassemble what my purpose was with her loss?" 
As part of its employee wellness program, PwC offers its employees individual coaches to provide help and guidance in their careers and their lives. After taking advantage of PwC's executive coaching, Chris says he slowly began to feel "less unclear" about his purpose. By the summer of 2021, he felt ready to get more involved with Be Head Strong.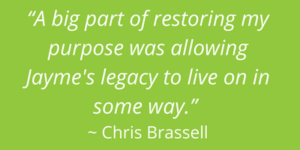 "A big part of restoring my purpose was allowing Jayme's legacy to live on in some way. Jayme was the most caring, selfless individual. She started a blow-dry salon as a way to empower women, have conversations and build each other up. That was a big part of the culture she was creating. I felt like I could do that by being part of the Be Head Strong mission. It's been gratifying and fulfilling for me. It's helped in terms of rounding out to some degree what my purpose has become after her loss."
Re-engaging employees and restoring a sense of purpose following loss is vital to fostering a nimble, innovative and productive workforce. 
"To me, it's probably one of the most important things that organizations need to think about," Chris says. "Employees with purpose and employees who are engaged are more productive and innovative and probably more fulfilled and happy than those who are less engaged."
Grief mentorship at work.
Connecting your employees with available resources helps people feel less alone.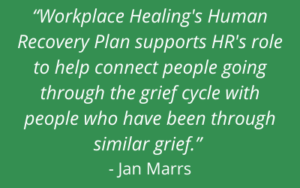 "One thing that's important with Workplace Healing's Human Recovery Plan is how it supports HR's role to help connect people going through the grief cycle with people that have been through similar grief or are in a similar grief cycle. That mentorship role is so important to helping people come through to the other side," says Jan Marrs, shareholder and head of Human Resources at Mize CPAs, Inc. Jan lost her 18-year-old daughter Lane to suicide in 2016.
Grief mentorship might look like this:
Reaching out to an employee and asking them how the team can best support them.  

Informing the employee about available resources inside and outside of the organization.

Providing time off to attend a support group.

Encouraging the department team to rally around an organization that's meaningful to the grieving employee, like chipping in a donation or joining a sponsored walk/run. 
At the time of his son Garrett's death, Gary Henson was working for Marty Bicknell, the CEO & President of Mariner Wealth Advisors. 
Marty reached out to Gary and asked what the company could do to support him. "I think I said, I don't want food brought to the house and I don't need flowers. Why don't you start a donor advisory fund in his name? And that's what they did. My goal was $200,000. I think we were sitting at roughly $166,000, and it was clear I wasn't going to get to the goal."
Then, something unexpected happened. 
When Gary went to the mailbox, he found a letter from his insurance company. It was a reimbursement check for Garrett's rehabilitation treatment, and it was for $34,000—the exact amount he needed to reach his goal for the donor advisory fund. 
"It was not a coincidence," Gary says, who initially used the donations to start the Grow with Hope Foundation to address the gap in addiction and opioid misuse. 
As he started studying the opioid epidemic, he discovered alarming statistics about the death toll due to opioid use, especially during the pandemic. According to the CDC, an estimated 53,000 people died of opioid overdoses in the first six months of 2021, reaching their highest levels in March 2021.
Seeking an opportunity to make an even greater impact on families, Gary joined the board of Shatterproof, a national nonprofit founded by entrepreneur Gary Mendell, who lost his son Brian to addiction in 2011. Shatterproof works to reverse the course of the addiction crisis, transform addiction treatment, end stigma and support communities.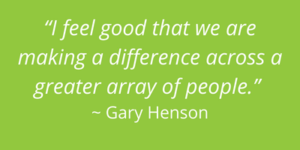 "Shatterproof has helped hundreds of thousands of people by changing and passing laws, building an app that helps people figure out where to go for addiction treatment, the list goes on. I guess what I feel good about is that we are making a difference across a greater array of people," Gary says, who folded his foundation Grow with Hope into Shatterproof. 
Grieving in community.
For many grievers, the hardest days come in the weeks and months ahead when people have returned to their normal lives.
"The worst part of the shock of losing a child is not the —well, the couple of days afterward are brutal — but the 90 days post are really bad," Gary says. "Everybody goes back to doing their own thing. They're going back to their jobs and their families, and they don't know how to talk to you. You don't have as much support as you did."
His involvement with Shatterproof provided another layer of support that helped Gary continue to navigate his grief. 
"It's brought me into a community of people. Many of whom have been touched by it," Gary says.
Stay tuned for Part IV of our ongoing series about post-traumatic growth coming next week. To learn how you can build a customized plan that supports grievers in your workplace, schedule a demo of the Human Recovery Plan™ Software Platform.