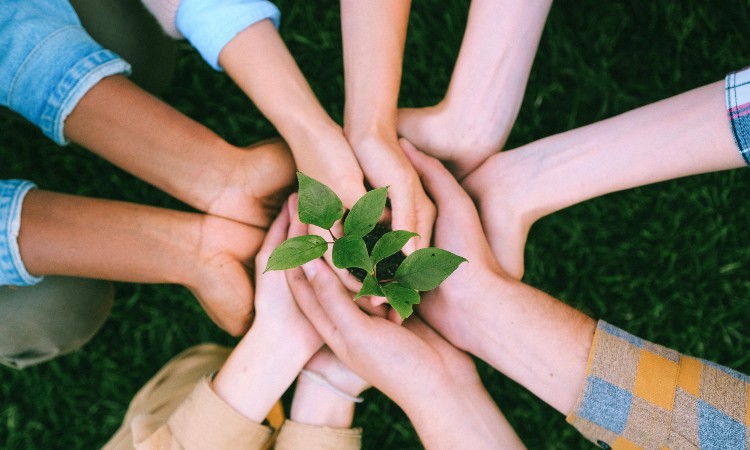 Creating a Healing Workplace Culture
Part II of our series about Post-Traumatic Growth in the Workplace.
Some employees may seek meaning and purpose following the traumatizing loss of a loved one. This special article series explores post-traumatic growth and how you can best support an employee experiencing it as part of their healing recovery process.
Workplace empathy can have positive outcomes on employee retention, business performance, and corporate culture. According to BusinessSolver, 92% of employees state that they are more likely to stay with an empathetic employer. Your company culture matters, especially to those experiencing post-traumatic growth.
Flexible bereavement leave.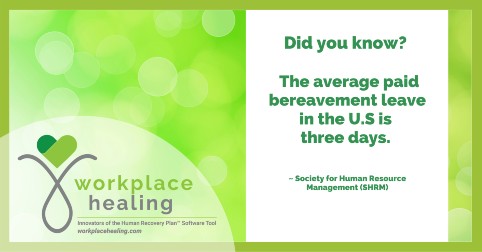 Jan Marrs, who is currently a shareholder and head of Human Resources at Mize CPAs Inc., says that the company she worked for in 2016 when her 18-year-old daughter Lane died, had a standard bereavement leave policy. Nonetheless, she appreciated that her employer encouraged her to take a month off.
"Five years ago, that was probably pretty generous, probably more generous than I would have gotten elsewhere," Jan says. 
In total, she ended up using about two weeks of her accumulated paid time off. 
Gary Henson, president of TortoiseEcofin Investments, LLC lost his son Garrett after a lengthy battle with drug addiction. As a single dad for much of Garrett's upbringing, Gary was extremely close to his son. 
"We had a Nerf hoop in the living room and a foosball table for a dining room table. I coached his basketball team up until 8th grade. We did things every evening, whether we went to dinner, played sports, whatever it was that was going on that evening," Gary says. 
A member of the golf team and an excellent student, Garrett was starting high school on the right note. Then he began smoking pot and drinking. By college, he was battling an opioid and Xanax addiction and ended up dropping out of school. Gary insisted he enter a rehabilitation program in Utah. But soon after leaving the treatment facility, Garrett relapsed and died of respiratory failure on April 22, 2015. 
In the wake of his son's death, Gary was able to take a six-month leave of absence from his job. "I was exceptionally fortunate to be in a position that I was in senior management and at a point where they respected me enough to give me that much time off," he says. 
Creating standard policies around bereavement leave can be challenging.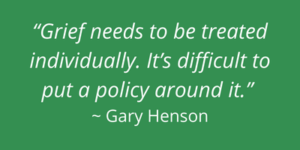 "Grief needs to be treated individually. It's difficult to put a policy around it. If I were building a policy, I might build it such that you have multiple days off, but you don't have to use them consecutively and you're given time to deal with things that you need to deal with in the immediate aftermath," Gary says. "You need to have flexibility around it."
Nothing buys employee loyalty more than a company that recognizes that their employees lead multifaceted lives and provides the flexible support necessary to ensure that an employee isn't left alone, stranded in the middle of a personal crisis.  
"It's the reason why I'm at PwC after 27 years because I feel like in these types of moments they put the individual first. They recognize the importance of the well-being of our individuals," says Chris Brassell, U.S. Director of Purpose and Inclusion at PricewaterhouseCoopers (PwC).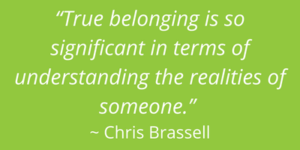 Chris lost his wife Jayme to brain cancer on January 29, 2020. Beyond rallying around Chris and his family with an outpouring of support that included cards, gifts, time off and teamwork, PwC, which is a company of 55,000 employees, has a "culture of flexibility." 
"Never have I been questioned. Never have I felt any sense of guilt. Teams chip in, pitch in, and give you all the space that you need and all of the time you need. And they back it up with actual benefits to do so," Chris says. "There's also a strong culture of belonging. True belonging is so significant in terms of understanding the realities of someone."
Desire to be heard.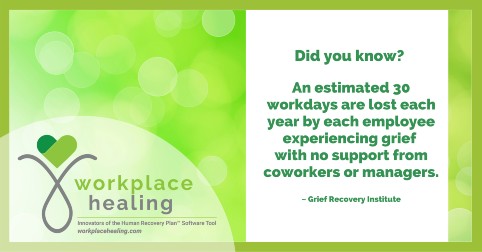 While time off and flexibility is important for grievers, connection through communication is another important component of the healing process. Grievers keep the memory of their loved ones alive by sharing stories. Taking time to listen to your grieving employee's stories about their loved one can make a tremendous difference in helping them feel less alone in their grief. 
A griever engaged in post-traumatic growth is likely learning and gathering information that's important to them. They may explore ways that honor the legacy of their loved ones while supporting others experiencing similar heartache and loss. They often find fulfillment and purpose as they work to resolve and build awareness around a health challenge or social issue. They may wish to share what they're learning with workmates as they process the information.
Although Jan appreciated her previous employer's flexibility, she found herself stymied in other ways when she returned to work. 
"As I tried to discuss mental health and suicide grief and other things, it was very much a 'don't talk about that stuff at work,' which was tough," Jan says. "They weren't willing to open the door and step into the mental health conversation at the time."
Ironically, she was working in the engineering industry which in 2016 was listed among the top five occupations in the U.S. linked to high suicide rates according to the CDC. 
Grief healing in action.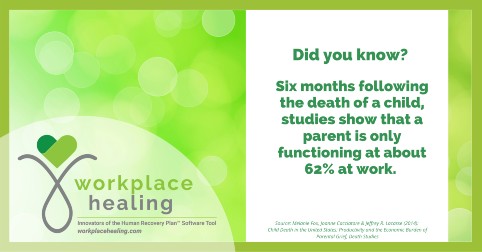 In the days following Lane's death, a friend started a GoFundMe account that raised $40K.
"People were just so moved by Lane's story and so we were trying to figure what we could do about that," Jan says. 
Within days of Lane's death, the family learned about an organization called Speak Up that was preparing to launch its first-ever 5K walk to bring attention to suicide among teens and young adults. A friend of Lane's suggested they do the walk as a team. 
"So we went and did the walk and I met the two founders who were just as raw as we were," Jan says. Speak Up was started by two families who had lost their teens to suicide less than a year before Lane died. 
Speak Up made sense to Jan because its goal was to go into high schools, get teens talking and break the silence and stigma around suicide. 
"If Lane had talked about the assault right after it happened, she would have started getting help early in her junior year before it took hold," Jan says. "She would have had two years of counseling before college and medication, and an openness to talking about it that was less likely to be deadly." 
As a former CPA with extensive leadership experience, Jan was able to lend skills like strategic planning, operational business and financial planning to help Speak Up attain 501c3 status, build a board of directors, and form valuable partnerships.
Speak Up has been widely adopted in Blue Valley Schools. And, thanks to a partnership with Johnson County (KS) Mental Health, the organization is getting into more schools across the area. 
"We've made so much progress. Teens and young adults are willing to talk about it. In the last two years, even through the pandemic, the teen suicide rate in Johnson County has declined by 30 to 40%."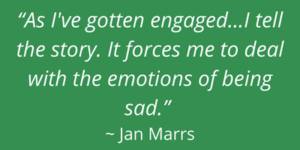 Jan's involvement with Speak Up has also helped her manage the emotional overwhelm of losing a child. "I tend to drive and not deal with my emotions. Kind of like what Lane did, which could translate to what I would call a bit of an explosion, which isn't good in the mental health space. I'm a person that wants to withdraw by myself when I'm grieving.
"But as I've gotten engaged, do interviews, go to community events, or reach out and meet other moms who have lost kids, I tell the story," Jan says. "Then, I get emotional afterward. I think that is a healthy part of the grieving cycle because it forces me to deal with the emotions of being sad and get the grief out and accept that it's okay."
What does workplace support look like?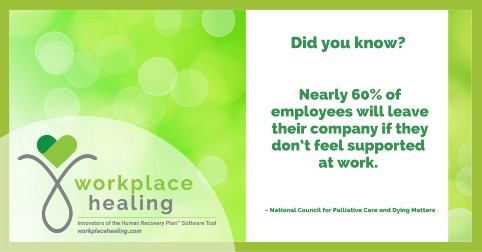 About a year and a half after Lane's death, Jan left her company and joined Mize, where she can openly talk about the mental health crisis, enjoy more work-life balance and dedicate 10-15 hours a week to Speak Up. 
"They've been a perfect fit in terms of allowing me the space and encouraging me to talk about it. They've done several fundraisers and we've raised money for Speak Up," Jan says. "Every time I speak or do an article or talk about this, they display it on their social media. They're open to supporting people with mental health issues and talking about it."
Unusual among CPA firms, Mize prides itself on its family-focused culture. Most employees average about 45 work hours per week. The company hosts family-friendly events for employees throughout the year and encourages community service, granting an extra eight hours of PTO for employees who wish to volunteer with organizations that matter to them.
The company's approach not only strengthens team morale but also enhances the fiscal well-being of the organization. "We're ranked among the top 10 regional accounting firms in this area, and I think our growth was around 38% last year from a revenue perspective," Jan says.
Stay tuned for Part III of our ongoing series about post-traumatic growth coming next week. To learn how to build head and heart-based initiatives that support your grieving employee and boost your organization's fiscal and cultural well-being, schedule a Human Recovery Plan™ Software Platform demo.
Read Part I of this series, Understanding Post-Traumatic Growth Among Grieving Employees.