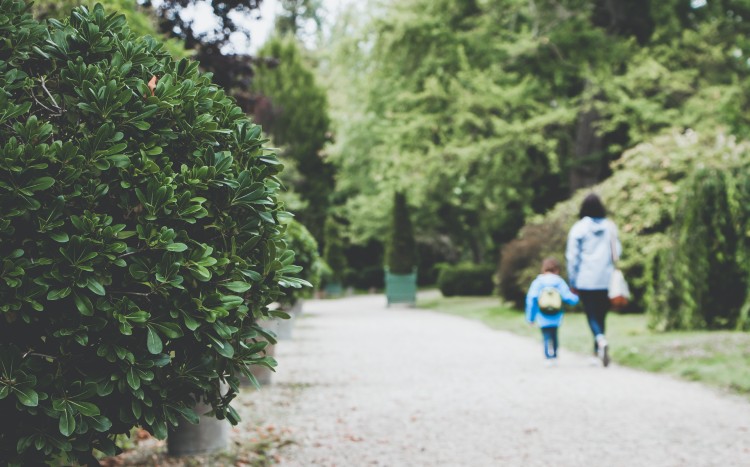 Blindsided by "Back-to-School Season" Grief
For an employee mourning the loss of a child, back-to-school season is an extra challenging time affecting productivity and focus. Learn how to support your grieving employee during this time.
The death of a child is one of the most traumatic and stressful events any parent can endure. According to Evermore, a non-profit working to change bereavement care in the U.S., "about 18.7 million Americans have experienced the death of a child." Back-to-school season is a heartbreaking reminder of "what could have been" for a bereaved employee mourning the death of a child.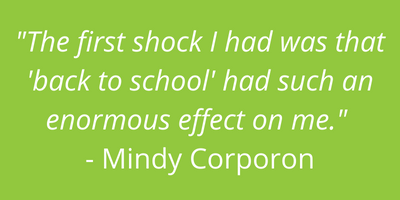 "The first shock I had was that 'back to school' had such an enormous effect on me," recalls Mindy Corporon, co-founder of Workplace Healing, whose father and teenage son were murdered by a white supremacist intent on killing Jews in April 2014. "My grief was as present in August and September as it was the first week we lost both of them."
It wasn't until she was driving her son Lukas to his first day of 7th grade that her grief came roaring back. "Reat should have been with us in the car on his way to his sophomore year," Mindy says.
With a lump in her throat, teary eyes and a pounding heart Mindy held her emotions in check until Lukas got out of the car. Then, "I was convulsing with sobs trying to drive carefully through the happy families delivering their children to middle school. Knowing I was in no shape to walk into work, I drove to a friend's home in the neighborhood."
How back-to-school can affect a grieving employee.
As a manager, the back-to-school season may catch you off guard, especially if your grieving employee seemed to have been coping well.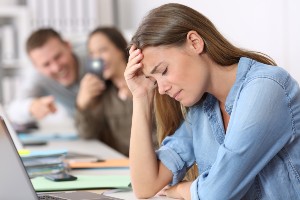 "I had been making good strides in July and early August. I participated in a triathlon in late July. Physically, I appeared to be doing well. The first day of school took me back under the waters," Mindy says, who was a CEO at a successful wealth management firm at the time.
"My team members' children were all going back to school too. The team lunch conversation was about classes, teachers, and new events on their calendars. I wanted them to feel comfortable talking about all of this and asked them to do so. A few times I had to dismiss myself to go cry."
Low energy.  Grief can affect quality sleep, which can affect an employee's energy level, focus and concentration.
"The energy it took for me to live through my grief affected my ability to think clearly or concisely for any length of time. I could think and take action, but I was slower, more methodical in my processes," Mindy says, who averaged about four hours of sleep a night during the year following Reat and her father's deaths.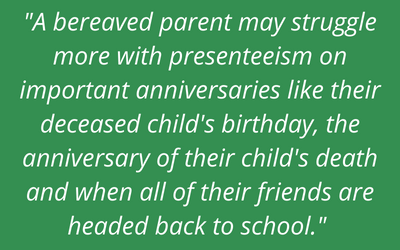 Present, but disengaged. When an employee is physically present in the workplace, but not present emotionally and unable to perform tasks at normal capacity, it's called presenteeism. A bereaved parent may struggle more with presenteeism on important anniversaries like their deceased child's birthday, the anniversary of their child's death, and when all of their friends are headed back to school.
Limited capacity. If your employee is a caregiver to other children, they are also expending energy to support their surviving children who are grieving the loss of their sibling. Grieving children naturally need more support from their parents and other loved ones and find comfort in routine. A child might worry they will lose a parent too.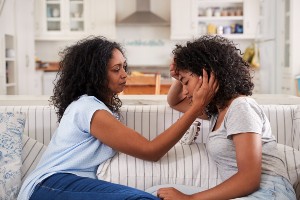 "Lukas was extremely fearful for my life and Len's [Mindy's husband]. He would say to me 'don't get shot' before I headed out the door," Mindy says. "His baby 12-year-old face would tear up when I said I had to travel or would be home late due to a work-related meeting. He needed me close to him."
For Mindy that meant it was necessary to cut back on work travel and take a break from networking events and after-work meetings.
As a supervisor, your steady support for an employed parent who is not only working through their personal grief but also attending to the needs of surviving siblings is paramount. A parent's anxiety about how well their child is coping is real. According to research, unaddressed childhood grief can lead to problems in school, mental health issues and early mortality. And when their child isn't coping well, it's unlikely that a parent will be able to fully engage in their work.
Six ways you and your team can support a bereaved parent at work.
Plan ahead. Know the school district timelines so that you can be aware of the start date of school, which will likely bring up a sense of trepidation and fear for your grieving employee. Schedule a meeting with your employee two weeks ahead of time for a conversation—and have tissues ready.
Engage your employee. Instead of asking "how are you doing?" ask them "how much capacity do you have right now—or today?"
Lighten their workload. Determine as a team if some projects can be divided up and taken off of your employee's shoulders for the time being.
Provide flexibility. Your employee may need a more flexible work schedule. For example, they might wish to work from home during parts of the work day so that they can be available to take their children to school or greet them when they get home. They may also need extra time for appointments with school counselors, healthcare providers, administrators and teachers.
Offer time off. Rather than saying, "take as much time as you need," encourage your grieving employee to select days coming up during the first week or two of school that would be helpful for them to have off from work. For some that might be the first day of school or the day of "back to school night."
Show thoughtful support. Figuring out what to make for dinner amid grief is exhausting. Pool your team's resources and purchase a couple of restaurant gift cards or coordinate a meal delivery or a meal train to help your colleague get through the first week or two of school.
Want to learn more?
Know exactly what to say and what to do to support a grieving employee with The Human Recovery Platform™. Schedule a demo today.