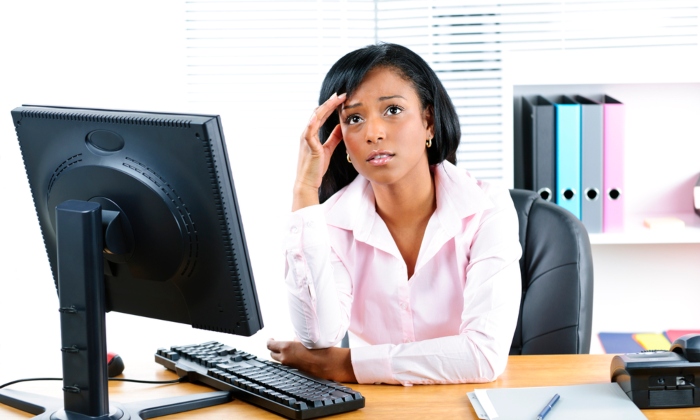 11 Signs Your Caregiving Employee Needs Support
Keep presenteeism and absenteeism from infiltrating your workplace and affecting productivity with these effective leadership strategies.
The caregiving crisis continues to strain the workforce leaving millions of employees overwhelmed, exhausted and burned out. What does that mean for your business?
Among the estimated 73% of employees who are family caregivers, 1 in 4 reported absenteeism or presenteeism due to caregiving over a month-long period. The loss of productivity adds up to a whopping $5,600 per employee each year.
What's presenteeism?
Presenteeism occurs when an employee is physically present at work, but not engaged. Employees experiencing challenging life disruptions that cause grief, including caregivers, are especially at risk.
The fear of discussing caregiving responsibilities with a supervisor drives presenteeism and causes employees to hide or downplay the growing stress they may be under as they try to manage both work and caregiving.
"People have tremendous respect for those who take care of others, but that perspective can shift a bit while employees are trying to balance both work and caregiving responsibilities. It's hard," says Gayle Messman, Workplace Healing Operations Manager.
While it's common for employees to take time out of the workday to address child caregiving issues, employees caring for older adults don't always receive the same grace.
"The stigma surrounding the care of older adults has lessened somewhat after the pandemic, but it still persists. Many employees remain apprehensive about being perceived as less ambitious or not career-focused," says Gayle, who also is a licensed residential care assisted living (RCAL) administrator and former Chief Services Officer with Cariloop, a tech-enabled caregiver support platform.
Employees also worry that they will be seen as unreliable or uncommitted, and more vulnerable to losing their jobs or being the first one to be laid off.
11 signs your caregiving employee could be experiencing presenteeism and needs leadership support:

Appears distracted or disengaged
No longer shows interest or enthusiasm for their work
Seems unusually tired
Lacks motivation or energy
Indifferent about results
Takes longer than normal to complete projects and tasks
Makes more mistakes than before
Arrives late or leaves early
Misses lunch breaks or seems to work longer hours
Works even when sick
Doesn't appear to enjoy a healthy work-life balance
Sources: Westfield Health; The HR Director
Read: How to Prevent Caregiving from Crushing Employees and Costing Your Company
How presenteeism sets in.
In the early stages of caregiving, employees may not even recognize that they are a "caregiver." Perhaps they've undertaken some tasks, such as picking up a prescription or attending the occasional doctor's appointment.
"In the early stages of caregiving, individuals just consider themselves fulfilling the role of a loving son, daughter, or a good neighbor," Gayle says. "We tend to have this vision of caregiving where it's more hands-on and intensive such as ambulation, personal hygiene or handling complex medical concerns."
Over time, these early stages morph into additional responsibilities like managing a parent's finances, dealing with health insurance complexities, coordinating care, administering medication and being on-call for middle-of-the-night emergencies.
Many caregiving-affected employees work late and sacrifice their lunch hours to get the work done and manage caregiving responsibilities.
Stress, worry, and guilt can mean they aren't getting the sleep they need, which can lead to brain fog and trouble focusing during the workday. An employee may feel overwhelmed and isolated if they're the sole caretaker of their loved one and don't have other family members to call on for assistance.
The demands of caregiving can also mean the activities they used to enjoy for self-care go out the window, like taking time to prepare nutritious meals, exercising or relaxing with friends.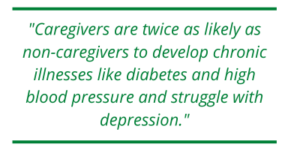 Without intentional stress management, caregivers are twice as likely as non-caregivers to develop chronic illnesses like diabetes and high blood pressure and struggle with depression. This means they're more likely to come to work sick or take more sick days off.
Leaders have the power to make a difference.
While the problem can feel daunting, with a thoughtful, practical leadership strategy, you're uniquely positioned to help your employee:
Better manage stress.
Reduce their levels of presenteeism and absenteeism.
Continue to work and successfully perform their jobs.
Strengthen overall workplace morale.
Check-in with your employees.
Make time for casual conversations to find out how your employees are doing. These conversations show your employee that you care about their welfare and builds a sense of connection, which also establishes trust and respect.
Many employers worry about infringing on employee privacy. If you know your employee is caring for a loved one, it's normal and human to ask questions like, "How is your mom/dad/grandmother/child doing?"
Listen.
Don't just ask questions, slow down and listen to what your employee says. Careful listening can help with problem-solving before problems arise.
If your company offers employee assistance for caregivers as part of your Employee Assistance Program (EAP), let your employee know about those resources even if they don't need them right away.
Also, realize that listening can be healing on its own.

Create a Human Recovery Plan®.
A Human Recovery Plan gives you a strategy that includes the right words and actions to provide empathetic, practical support to your caregiving-affected employee.
"Many leaders do not know what to say or do when an employee is suffering from a personal crisis. Workplace Healing provides a plan of action for leaders that takes the guesswork out of what we should do, or not do. The plan leads by example and offers an insightful menu of plausible actions for all types of situations in a caring manner," says Michelle Fritsch, LMSW-ACP, Texas Children's Cancer and Hematology Centers in Houston.
For example, one of Workplace Healing's clients, a 5,000-employee financial institution, built a Human Recovery Plan for a caregiving employee who has a child with special needs. Among the tactics they chose:
On-going communication with the employee.
Mental health care resources through the company EAP.
Gift cards to help the family with meals and groceries.
Special cause fundraiser in which the entire team participated in an event on behalf of their colleague.
Access personalized empathy skills development.
Through educational webinars, platform training, and in-person or virtual leadership development training, we ensure leaders and plan builders have the answers they seek to support individual employees.
Let's talk! Contact us for a free demo of the Human Recovery Platform™. We work directly with employers and partner with EAP providers and insurance brokers seeking innovative solutions to address grief and caregiving gaps within existing employee benefits.