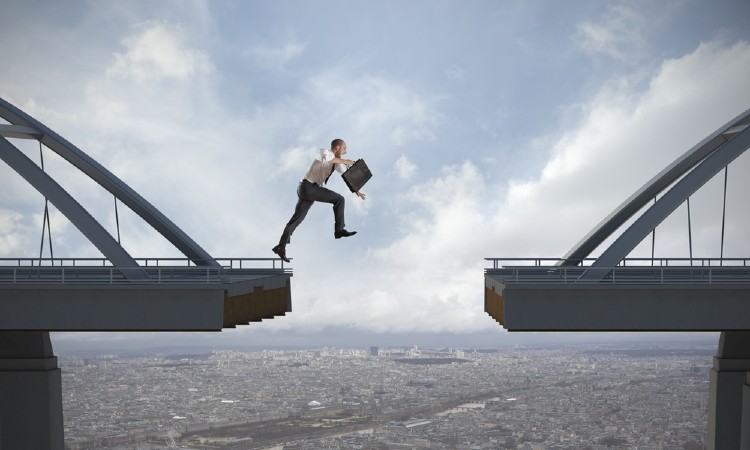 Your EAP is Great—and No One Uses It. We Have a Solution.
Fill the gap to increase employee assistance program utilization (EAP), boost retention and strengthen workplace morale among grieving and caregiving employees with the Human Recovery Plan.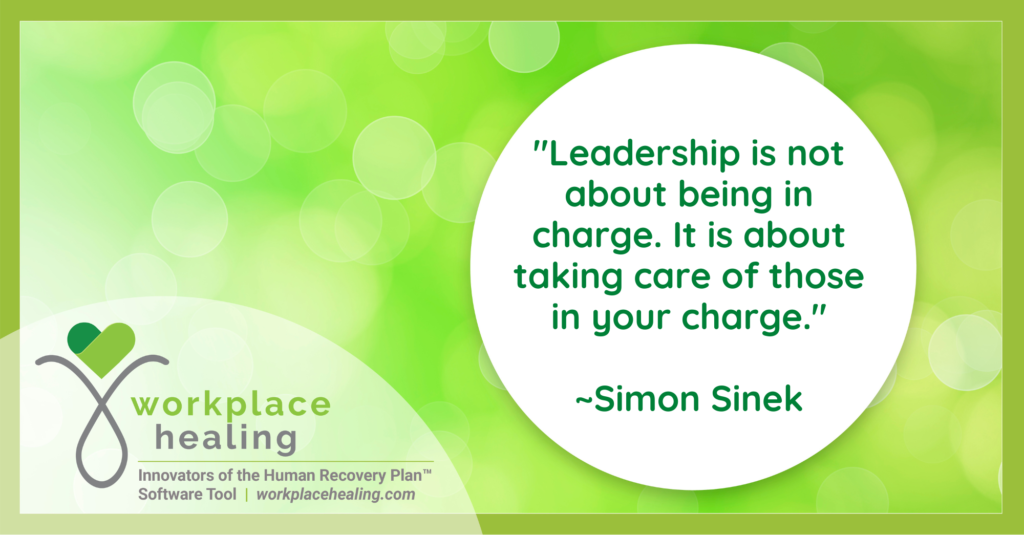 It's every leader's dream: You're managing a healthy and high-performing, cohesive team that's helping your company meet its strategic goals and celebrate record profits.
The reality? Today's workforce is more stressed, depressed, depleted and anxious than ever. According to Gallup's State of the Global Workplace 2022, nearly half of employees in the U.S. and Canada are affected by daily stress with women experiencing the greatest burden of stress globally.
If you're like most leaders, you're also overworked and overwhelmed trying to help your employees stay healthy, present and engaged in the workplace. Without a clear plan to guide you, you spend your time and energy reacting to your employees' stressful life disruptions, unsure if what you're doing or saying is helping—or making things worse.
The stakes are high. Employees who feel unsupported at work are more likely to:
Grow increasingly disengaged, resulting in higher rates of presenteeism and decreased performance.
Lose workdays due to illness, leading to billions of dollars lost each year to decreased productivity and absenteeism.
Leave their jobs, which means you're frequently on the hunt for skilled employees in an already strained labor market.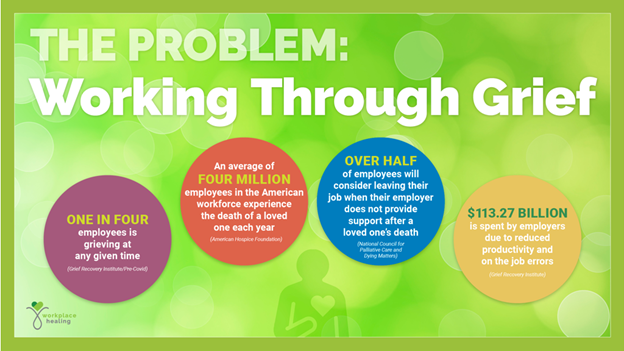 "Managers need education in grief and how to talk with grieving employees. Grief is one of the ugliest and most individual issues I work with. I'm sick to death of hearing 'I'm sorry for your loss.' It's checking a box and there's nothing heartfelt there," says Sharon Davis, a licensed professional counselor with extensive experience in hospice and grief recovery.
"For managers who live and die by their productivity, if an employee is grieving and productivity is down, that reflects on that manager. Empathy can be learned, but people must be willing to learn and they need training."
Although the problem is complex, the leadership solution doesn't have to be. We designed the Human Recovery Platform™ to guide leaders out of the ambiguity, providing you with the empathy skills necessary to re-engage an employee experiencing a life disruption. In minutes, you can create an effective plan customized to your employee's circumstances, including immediate and long-term support.
How is the Human Recovery Plan different from an EAP?
You may be thinking, but we already have an EAP. Why would we need the Human Recovery Platform™? The Human Recovery Plan isn't a replacement for your EAP—it's much more.
Complements your EAP by enhancing awareness, boosting utilization.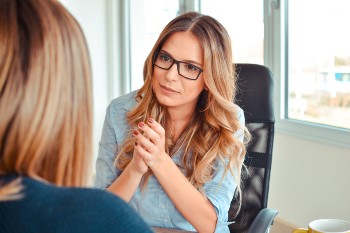 Employee assistance plans often provide a robust range of practical services available outside of the organization, including mental healthcare resources, financial counseling, legal aid and eldercare/childcare assistance.
Although 97% of large companies offer EAPs to their employees, the utilization rate is historically low, hovering at around 4%. Employees generally cite a lack of awareness about the EAP or fear repercussions if they seek mental health services through the benefit, despite assurances of confidentiality.
In terms of awareness, after the initial roll-out of a product, internal marketing of available employee benefits often falls off the to-do list for a busy human resources team.
Because the Human Recovery Platform™ includes custom tactics designed around benefits your organization already offers, it naturally functions as a built-in marketing tool for your organization's EAP.
Encouraging EAP utilization matters. A study published in the International Journal of Health and Productivity found that absenteeism dropped 27%, work engagement grew by 8%, and life satisfaction increased by 22% for workers who used an EAP.
When a supervisor accesses the Human Recovery Plan, they'll have all of your organization's employee resources at their fingertips to help them quickly and easily distribute relevant information to a stressed team member.
The Human Recovery Plan fills the EAP gap.
The Human Recovery Plan is more expansive than an EAP, providing support to both the manager and the employee.
Rather than simply sending the employee away for help (and wondering if they ever followed through), the Human Recovery Plan is multifaceted, ensuring a leader knows exactly how to support a struggling employee at the right time within the framework of the workplace environment.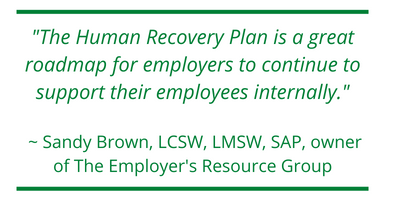 "The Human Recovery Plan is a great roadmap for employers to continue to support their employees internally," says Sandy Brown, LCSW, LMSW, SAP, owner of The Employer's Resource Group. "An employee may be too overwhelmed or stressed to take on the challenge of accessing their EAP. With Workplace Healing's Human Recovery Plan framework, an employer can provide support even if an employee doesn't use the EAP."
Strengthens your team.
Empathetic managers who take strategic action to support employees who are suffering from inevitable life disruptions are more likely to have stronger, more interconnected teams who care about their work.
Whether an employee is grieving or struggling in a challenging caregiving situation, often they simply want to be heard. "They want to know that even if you don't understand, you care," Sharon says.
Talking about grief is uncomfortable and often feels awkward. "People end up saying nothing because they don't want to say the wrong thing, which is really the worst thing they can do," Sharon says.
Rather than saying nothing or brushing a grieving employee off with an "I'm sorry for your loss," and hoping they get back to work at the same level they performed before, the Human Recovery Plan provides an informed and thoughtful way for a leader to demonstrate ongoing care and connection with their employee.

Provides intuitive leadership skills training.
Ignorance among leaders about how to sensitively address grief in the workplace can lead to painful, costly repercussions that affect the entire company in terms of turnover, decreased productivity and low morale.
We purposely designed the Human Recovery Platform™ to be easy to access and navigate, with no clunky or complicated portals that could stymie an already overworked professional. As business leaders ourselves, we understand that creating a user-friendly platform (no IT degree required) is essential to ensure you have the necessary information and assistance you need when you need it.
Instead of pulling your hair our while steeped in a technical learning curve, you'll invest your time learning how to respond to employee life disruptions in real-time with empathy and confidence. You'll get answers to questions unique to bereavement and caregiving like:
What do I say to an employee who is grieving the death of a loved one? I'm worried about saying the wrong thing.
What can our team do to demonstrate care and support to a grieving coworker?
We responded to an employee immediately after their loss with a card and a meal delivered to their home. They're back at work, but I know they're still struggling. What do I do or say now?
How do I support a skilled employee, who is frequently dealing with family caregiving issues with empathy while also keeping them engaged and preserving the cohesiveness of our team?
How do I walk the line between addressing work responsibilities with humanity while also respecting an employee's privacy?
24/7 employer-employee support.
Grief is inevitable and defined as any life disruption, ranging from the death of a loved one and the diagnosis of chronic illness to caring for elderly parents.
With 24/7 access to the Human Recovery Platform™, whenever a life disruption occurs among one of your employees, you'll respond with confidence. You won't be fumbling for the right words or second-guessing the next right actions. You'll be able to quickly build a head and heart-based plan that shows your employee you care and most of all demonstrates that they are not alone.
To learn more about how the Human Recovery Platform™ fills a gap for the benefit of your employees, schedule a demo today.