Whether you are helping a grieving colleague create a tribute to their loved one or creating one to honor a deceased co-worker, here are some tips and resources.
Remembrance Board.
Gather materials, including:
Tri-fold (found in craft stores; often used for science fairs)
Scrapbooking adhesive or a temporary adhesive if the photos will be removed later
Scissors/scrapbooking scissors
Cardstock paper for writing photo labels, quotes, poems, etc.
Nice pens/markers (or if you don't care for your handwriting, printable labels)
Photos of the deceased, including photos of them at work-related events/parties/gatherings
Example of a remembrance board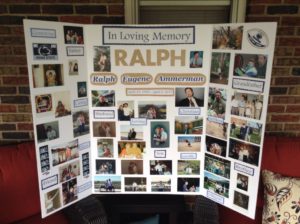 .
Framed Remembrance Board.
Photo of your co-worker
Ask co-workers to write condolences on the board around your co-worker's photo.
Have the board framed and present it to the family as a gift.
Examples:
Fingerprint Memory Tree.
A Fingerprint Memory Tree illustration can be a thoughtful way to highlight how many people's lives were touched by your colleague.
Ask your team to leave their fingerprints (use an ink pad or acrylic paint) signed with their initials on an illustrated tree. Provide wet wipes to remove ink or paint from fingers.
Frame it and offer it to the family as a gift.
Examples: Memorial Service Guest Book and Fingerprint Remembrance Tree Memorial Kit
Remembrance Book or Video.
Gather digital photos of your co-worker, include photos of them at work-related events/team-builders/work parties/conferences/gatherings and any photos the family may allow you to use.
Include a list of their favorite things like music, movies, foods, travel destinations, hobbies/activities, books, poems, sports teams, etc.
Include your colleague's favorite quotes or quotes that resonate with honoring their memory.
Ask colleagues to share their favorite memories about the deceased to include in the book.
Questions to provide thoughts:
What did you admire about them?
What's a quote or piece of advice they shared that you'll never forget?
What kind of an impact did they make on your life/career?
What's an example of their generosity/thoughtfulness/compassion?
What's something the deceased said or did that always made you laugh?