Show your grieving employee that you care by planning a meal or arranging an office meal train for them.
Why nutritious food matters.
Food is often how we show people we care. It's a way we can nourish people when they are in distress. This isn't only a cultural phenomenon, it's a biological one.
Grief manifests as stress in the body, triggering the fight or flight response. When we are in fight or flight, stress hormones like adrenaline and cortisol flood the system. Your heart rate and blood pressure increase and digestion slows down, suppressing your appetite. From an evolutionary standpoint, after the threat has passed—when you are no longer facing an enemy or running from a predator—your system is supposed to return to normal functioning.
But grief is more of a chronic type of stress. It doesn't just disappear after the initial triggering event, which is why grievers often experience a loss of appetite. They may also experience more headaches, muscle tension, body aches and pains, insomnia and digestive issues.
Undernourished, a griever's immune system can weaken, making them more vulnerable to illnesses. The combination of grief and a poor diet can also contribute to brain fog, an inability to think clearly or concentrate. And reaching for the wrong foods, like too much caffeine or sugar, can exacerbate anxiety and depression.
By providing your grieving employee with nourishing, comforting meals, you show them you care and give them the gift of one less thing to worry about, especially if they have a family to feed.
What to deliver.
Gather details. In addition to logistics like your employee's home address and ideal times for meal deliveries, find out the approximate number of people you will need to prepare meals for. This will ensure you're preparing enough food for extended family members or out-of-town friends staying with the griever.
Find out food preferences. To avoid delivering meals that your employee and their family can't eat or don't like, ask if they have any specific dietary needs, food sensitivities or allergies. Many people follow special diets like gluten-free, vegetarian or dairy-free for various reasons. In general, avoid anything with peanuts since this is a common allergen and foods that people tend to have strong opinions about like olives, fish, mushrooms, beets, etc.
Gift cards. Ask your employee if they have any favorite restaurants. A gift card to a restaurant that offers take-out or delivery can be a thoughtful substitute for delivering a home-cooked meal and can be a nice break for a family.
Think outside the box. Plan to deliver well-rounded, nourishing warm meals like chilis, stews and soups, crockpot meals, breakfast casseroles/quiches, pasta bakes (homemade mac and cheese, chicken parmesan, pasta and meatballs) and taco fixings. Packaged salads that include dressing, sandwich trays and packages of coffee and tea are also often welcome, especially if your employee has family staying with them.
Consider pantry staples. Deliver a grocery bag of nonperishable, easy-to-prepare foods that can be stocked in the pantry like boxed mac and cheese, applesauce, dried pasta/pasta sauce, soups, crackers, granola bars/protein bars, trail mix and beef jerky. If there are young children in the household, find out their favorite snacks.
Easy to transport/store. When coming up with meal ideas, choose items that are easy to transport and can be stored either in the freezer or in the refrigerator for several days. If you're preparing a meal for a couple or a single person, divide large casseroles into small meals that can be frozen and easily reheated.
Thoughtful tips.
Schedule your delivery. Text or call ahead to find out when a good time would be for you to drop your employee/colleague's meal off. Remember, if you commit to bringing a meal, it's critical that you follow through.
Set up a cooler. If your employee isn't ready to see anyone, suggest they set a cooler out in front of their house where you can stash the meal. (If they don't have a cooler, provide one for them to leave on their front porch for the time being.) Text after the meal has been delivered to let them know it's there.
Instructions. Include written directions about how to reheat a meal in case they don't eat it that day. If it should be baked, what temperature should they heat it at? For how long? Is the item freezable?
Easy clean-up. Deliver meals in disposable containers and include disposable plates/bowls, cutlery and napkins.
Websites to help you coordinate a meal delivery.
SignUp Genius – This site can make it easy if your team is pooling their efforts together to deliver one meal. Participants sign up for specific parts of the meal and the family liaison can make the delivery. For those unable to help prepare food but who still wish to contribute, participants can sign up to make a donation toward the meal or for a gift card.
Meal Train – a free website that helps you coordinate meals, along with dates and food preferences
Take Them a Meal – a free online tool that helps you create a meal schedule and coordinate delivery. Also includes recipes as well as an option to ship a freshly prepared meal from the site's store.
Food Tidings – includes meal ideas and recipes and a schedule for coordinating signups and delivery details. Also includes an option to ship a meal prepared by the company's chef.
*Meal Delivery Services.
While the following sites don't offer tools for coordinating a meal train, these are just a few companies that provide additional ways to send a warm meal directly to your employee's home. Be sure to inform your employee when the meal is scheduled to arrive.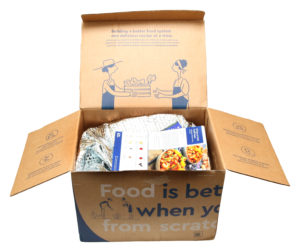 More than a Meal – Local to Kansas City, this meal delivery service also donates 5% of the cost of each gift to community non-profit organizations.
Spoonful of Comfort – fresh soups and care package delivery service.
Harry and David – Variety of gourmet meals and sympathy packages.
SendaMeal – Assortment of meals, including soups and ham dinners to pasta bundles.
*Please note: We are not affiliates of any of the food delivery websites listed above. These resources are provided for information purposes only and should not be seen as a testimonial for these companies.