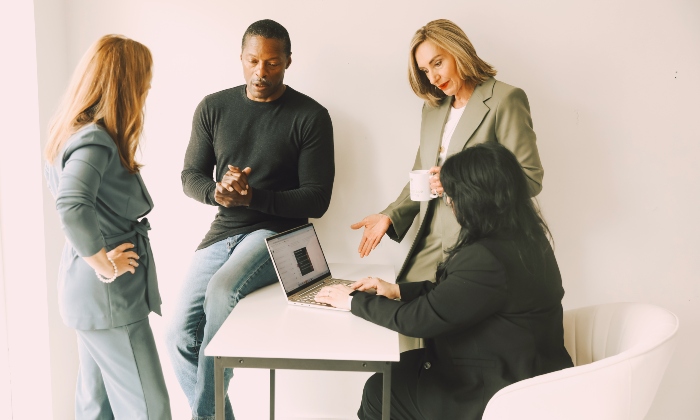 Now You Can Strengthen Existing Employee Benefits and Leadership Empathy Skills
Partner with us to equip your clients with an innovative solution that helps them effectively engage and retain employees who are navigating difficult personal life disruptions.
Employee benefits provide a robust range of employee assistance features to bereaved and caregiving employees. However, a critical leadership skills gap has exposed a weakness in existing HR benefits, and it's costing companies billions in lost productivity, turnover, and on-the-job errors.
Help leaders help grieving employees.
When an employee experiences a disruptive personal life event that causes grief, the standard operating procedure is for the manager to refer the employee to human resources and/or their employee assistance plan, which is the right first step.
But then what?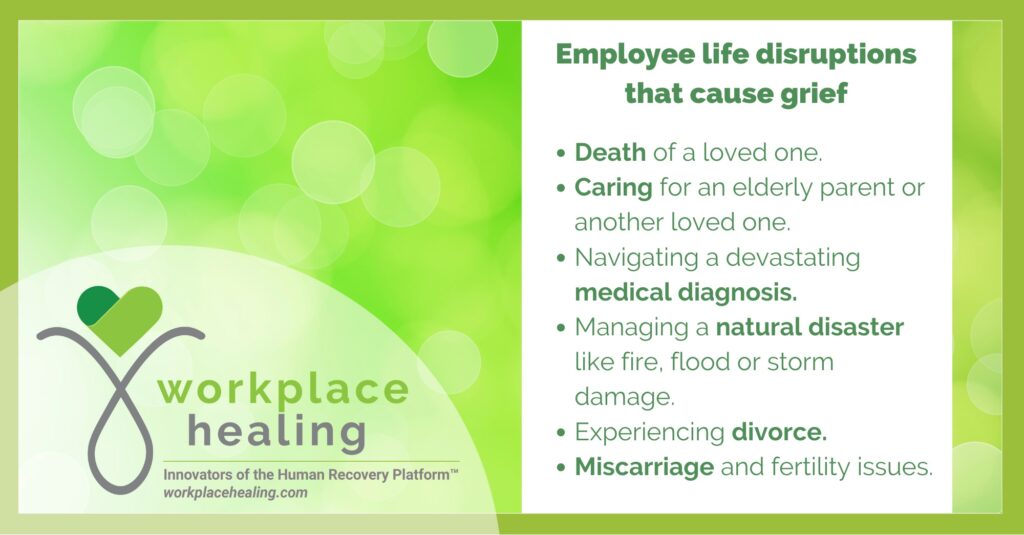 What happens when a bereaved employee comes back to work?
Without the knowledge, skills, or resources to effectively support employees navigating challenging life disruptions, leaders are left twisting in the wind as they struggle to engage, retain, and motivate their employees.
The cost to companies is exponential.
Each year mishandled grief in the workplace results in $113.27 billion in lost productivity, on-the-job errors, and turnover. More than half of employees consider leaving companies where they feel emotionally unsupported.
Partner with us to enhance employee benefits and position leaders for success.
Workplace Healing's Human Recovery Platform™ gives leaders the tools and resources to show up in an employee's life as a source of strength rather than an additional source of anxiety and stress.
With a win-win combination of on-site or virtual leadership empathy training and  human-centered technology, leaders know how to effectively support and engage a grieving employee while also enhancing productivity, retention, and workplace morale.
Workplace Healing partners with innovative employee benefits program (EAP) providers and insurance brokers invested in delivering the latest in employee benefits and employee engagement solutions, like HUB International, a leadng North American insurance brokerage.
"We are happy to have found such a unique solution to introduce to our clients. There are many employee-facing empathy solutions in the market, but nothing that helps leadership and management teams create a plan around caring for someone who is grieving. This platform truly covers it all," says Wendy King, Director of Strategic Partnerships, Employee Benefits, HUB International.
Are you an EAP provider or insurance broker? Let's talk.
How the Human Recovery Platform works.
A first-to-market B2B SaaS, Workplace Healing's Human Recovery Platform helps busy professionals retain valued employees and preserve morale by transforming the way they support team members affected by challenging life disruptions that cause grief.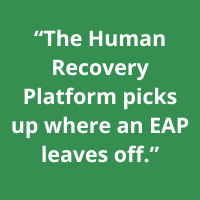 The Human Recovery Platform picks up where an EAP leaves off by providing leaders with 24/7 solutions to confidently acknowledge, engage and support employees suffering from grief-related symptoms that affect job performance.
Prompting leaders to use existing company benefits and select empathy tactics, the Human Recovery Platform helps reduce presenteeism, turnover and absenteeism, effectively strengthening team engagement, retention, productivity and morale.
Enhance awareness and utilization of existing employee benefits. Employee assistance plans (EAPs) are historically underutilized.
Fills the gap between individual employee recovery and healing in the workplace. Whether or not an employee chooses to access their EAP for counseling or other forms of support is outside a supervisor's control.
Strengthens teams. When one employee experiences a life disruption, it disrupts the entire team.
Key components of our human-centered technology differentiate us.
Personalized empathy skills development. Grief is universal, but the healing journey can look different for every person.
Through educational webinars, platform training, and in-person or virtual leadership development training, we ensure leaders and plan builders have the answers they seek to support individual employees.
Customized long-term tactics to restore productivity. With an extensive database of head and heart-based resources, plan builders can easily customize a plan that makes sense for their life-disrupted team members.
Confidence-building conversation skills. It's distressing when you don't know what to say to someone who is suffering. The Human Recovery Platform provides the meaningful words and actions leaders are searching for to show their support.
Communication and marketing support. From email campaigns and marketing emails to blogs and case studies, we deliver communication materials necessary to support a successful roll-out and engage plan builders, as well as announce new features and enhancements to the software.
Measurable success. Begin with our innovative and free Grief Forecast, which calculates how much unsupported grief is projected to cost your company this year. (Try it now!)
For clients, we conduct surveys and perform platform analytics to deliver meaningful insights on plan activity and performance.

Let's get started! To learn more about our partnership opportunities and incentives, please contact us at WPHcommunications@workplacehealing.com or schedule a demo.