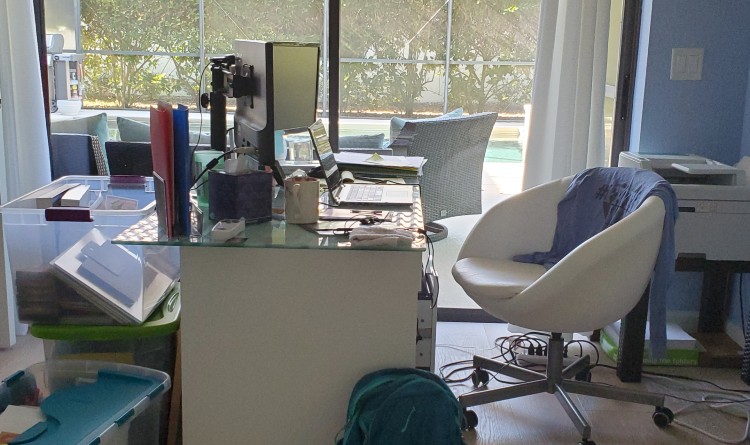 Be Thankful for Your IT Department
In February of 2018 I moved out of my corporate office, out of my role as CEO of Boyer Corporon Wealth Management and out of a daily schedule I had practiced, honed and found success in for over 25 years.
The adjustment was alarming.
I went from having a fully functioning office with colleagues who knew their tasks and obligations to our clients, a defined daily schedule and a fancy, high powered printer to …wait for it… absolutely none of this. Never underestimate the importance of colleagues who know their responsibilities or a printer/scanner, you know how to operate.
Frustration set in when we moved to Florida and I was tasked with actually assembling my own 27 inch computer monitor and ensuring it worked with the hard drive I had just unpacked from the moving truck while also being friendly to my laptop. Establishing connection with my newly purchased printer, buying printing paper and ink cartridges each reminded me of 11 years prior when I was instrumental in opening our wealth management office in Overland Park, KS.
If you are new to working from home and still have a corporate office backing you with an IT department, be kind to them. My IT department is Karl Foss, who is always friendly and ready to help me with the smallest of irritating issues, like "why is there a small screen on the top left hand corner of my larger screen?"  I have learned to take screenshots, use What's App for video conferencing and troubleshoot SO MUCH MORE, ON MY OWN.
Four items that help me succeed.
A strong wi-fi connection, headphones with a microphone, a yoga mat and small hand weights.
Embedded is an article by Brian X. Chen (Tech Fix). He offers many ideas on how to upgrade your home's tech capabilities. Mr. Chen has much to offer and knows way more than I do about these special gadgets that can help our flow of work – which are critical to a productive day.
Why the yoga mat? After sitting at my desk or standing at my kitchen counter, I often feel the need to stretch my joints, legs, arms, twist my back and roll into a ball. You know, yoga. My mat provides me permission to take care of my body. It gives me a space, removed from my workflow, to breathe deeply and quiet my mind. I take my mat outside, too. (weather permitting)
I find that after a few conference calls, answering the immediate emails and scheduling next week's meetings, my yoga mat offers solace and respite. I am rejuvenated, even after a short 15 minutes of movement and breathing on my mat.
Why small hand weights? My arms were used to the ergonomics of my office chair situated with my office desk and the wrist pad I used to prop up my arms while typing. As I started working from home, I found myself moving around in my space. Two hours sitting at my desk, one hour sitting at the kitchen table, one hour standing at the kitchen counter and many hours on my couch with my legs out in front of me.  I was actually using my laptop, on my lap.
This presented some tension in my lower arms and wrists, similar to a previous injury I had called Tennis Elbow. I found some simple exercises to do with the 2lb and 3lb weights that help keep the small muscles and tendons in shape for all the keyboarding I do, from my lap.
I hope these ideas assist you in your workflow. As I am about to post this piece, several other "working from home" helpful hints are coming to mind. If you have some helpful ideas, post them for us and I will do the same.
Workplace Healing LLC – An innovative approach to healing in the workplace. 
Like this content? Don't forget to share it!