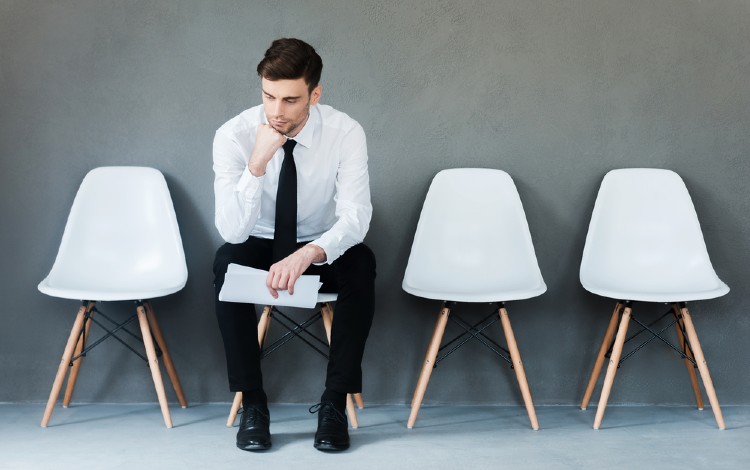 Are You Prepared for a Grieving Employee?
Unacknowledged grief is running circles around corporate America, costing companies billions in productivity loss, on-the-job errors and turnover in an already tight labor market. Proactive leaders are getting strategic.
Nothing quite puts your leadership skills to the test like how you respond to an employee suffering from a life disruption. It can mean the difference between earning heightened respect and trust from your team versus the morale-busting dissatisfaction and costly ramifications of a bungled response.
But few leaders realize the extent to which grief is affecting employee productivity, corporate culture and fiscal well-being—or that there's something they can do about it.
There's a prevalence of grief in the workplace.
After a historic pandemic left more than a million deceased Americans in its wake, along with millions more grappling with personal loss, it's unlikely that any workplace in the country came out unscathed. But that doesn't mean employers have become more adept at managing the emotional needs of grieving employees.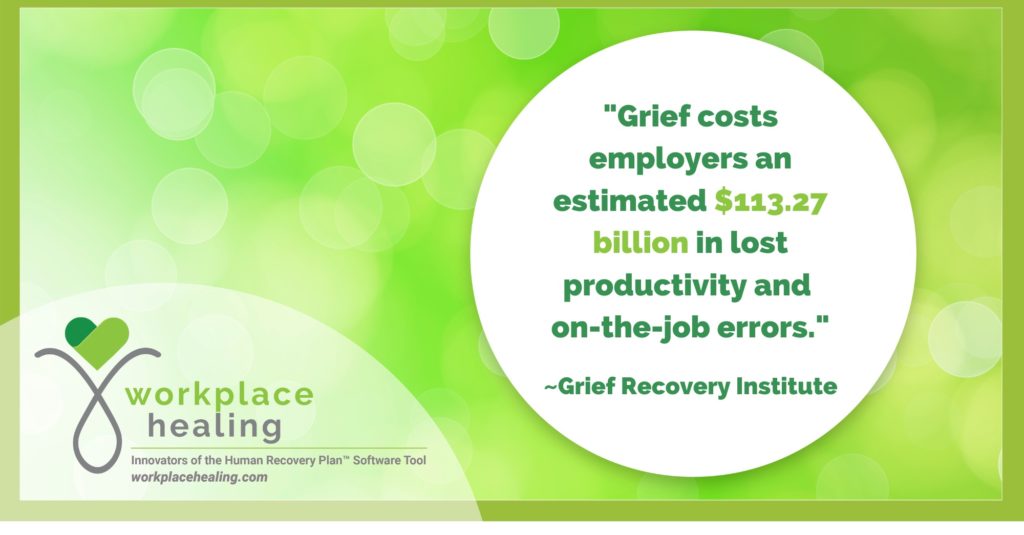 "Conservatively, there are 7 million Americans coping with the death of a close family member, not including the more than 5.5 million people who have died globally. It is undeniable that grief is impacting all workplaces," writes Amber Gipson-Fine, a project manager for COVID-19 clinical trials at Rush University Medical Center.
Overall, researchers estimate that at least 1 in 4 employees is grieving at any given time. If that seems hard to believe, consider the many grief scenarios we face each year, ranging from the loss of a loved one and a life-changing medical diagnosis to the added responsibility of caring for an ailing family member.
Leadership's empathy training gap.
You might think empathy is just a skill you're born with. But it's not. It's a muscle that can be strengthened.
"Outside of human resources policies, managers need training on managing grief in the workplace alongside other leadership practices. Simply checking in on bereaved employees and providing space for them to speak about their loved one can build a better team dynamic," Gipson-Fine writes.
A failure of strong, empathetic leadership can wreak havoc on a company's fiscal and cultural well-being in terms of turnover, lost productivity, presenteeism and absenteeism.
When a grieving employee feels unsupported at work, they often stop feeling invested in their work and in their company. The job that once gave them a sense of purpose can suddenly feel meaningless and transactional when considering life's bigger picture. They might think, "It's just a job. Show up. Work. Go home."
After all, what do they owe to a company—or a manager—that doesn't seem to care about them?
A report by the Harvard Business Review finds a direct correlation between effective leadership in which managers maintain a good relationship with their employees and strong employee productivity and engagement.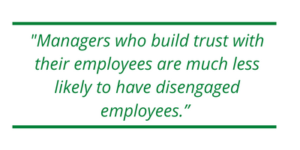 Managers who build trust with their employees are much less likely to have disengaged employees. "Those who were rated the highest at balancing results with relationships saw 62% of their reports willing to give extra effort while only 3% were quiet quitting." (Harvard Business Review)
Grief isn't only at your doorstep, it's in your house. While you can't control what happens in an employee's personal life, you do have the power to manage the effects of grief in the workplace. That's where we can help.
Strengthen your leadership strategy.
Workplace Healing's Human Recovery Platform™ provides 24/7 empathy skills training for leaders. Within minutes, the easy-to-use software helps you select a balance of head and heart-based tactics to ensure you know exactly what to say and what to do to best support your grieving or caregiving-affected employee.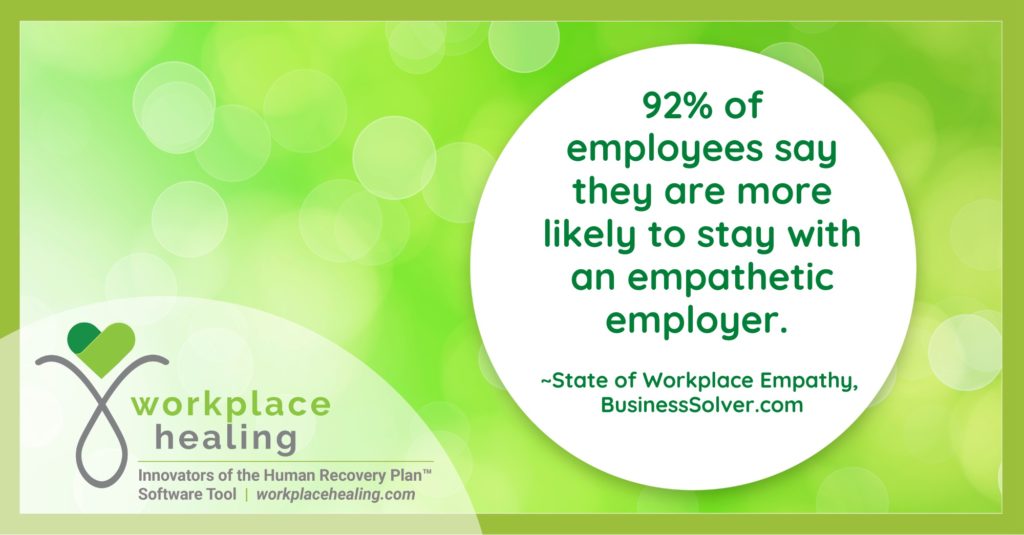 According to a research study published in the Journal of Policy and Practice in Health and Safety:
"Managers were thought to be supportive when they responded in offering specific support depending on the individual's circumstances and provided sufficient time and space for them to grieve. 'Acknowledging' and 'responding' appeared to promote understanding and instill a sense of being valued rather than the feeling of being just another number within the organization."
If you'd like to learn specific head and heart-based tactics to strengthen your empathy leadership skills, contact us for a demo of the Human Recovery Platform™.